Limni Beach
At the foot of a pine forest, Limni Beach is a beautiful, rustic South Rhodes beach that seems to have been relatively unscathed by the overdevelopment of its neighboring areas.
Location: On the island's south west coast, just past Kattavia village and a short drive from Prasonissi.
Who goes there: Couples, no locals, and a fair share of holidaymakers from nearby hotel resorts and rented villas.
When to go: Limni beach get pretty busy from about lunchtime onwards in the peak months of July and August, but for the rest of the season it's relatively un-crowded and peaceful at all hours.
Kiotari.eu loves: Watching the sunset from the vantage point of Skiadi Chapel.
Προβολή
Kiotarieu_beaches
σε χάρτη μεγαλύτερου μεγέθους
---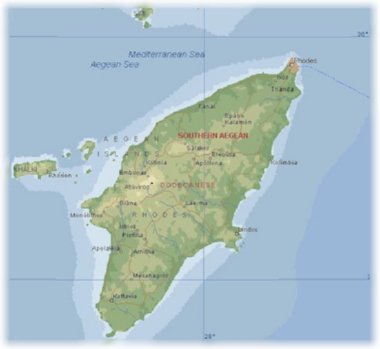 Area Guides
Kiotari: Much more than beaches, clubs and parties!
Kiotari
Asklipio
Lindos
Villages around Kiotari
East Coast
West Coast
Old Town
---
Contents
Boutique Hotels & Villas
Villas with Pool
Appartments
Stefano
Petalas
La Strada
Il Porto
Mourella
Kiotari Watersports
Sabina's Watersports
Boat Trips
Events
Radio
---