---
Travel
The island of Rhodes is served by Rhodes International Airport. The airport is situated on the west coast about 55 km from Kiotari. There are regular flights to and from Athens, Thessaloniki, and Crete. From May till October charter airlines fly directly to Rhodos from many European airports. From the airport it is about one hour drive to Kiotari. You can hire a car, a taxi or just take the bus. The port of Rhodes has daily connections to the port of Piraeus. The trip lasts approximately 12 hours with intermediary stops at the islands of Patmos, Leros, Kalymnos and Kos. Rhodes is also connected directly to all the other islands of the Dodecanese and Crete. Rhodes is accessable via ferry from Symi ,Tilos and Bodrum, Fethiye, Datca and Marmaris in Turkey. Cruise ships dock at the Commercial Port, east of Rhodes (city)'s Old Town. The port is about 55 km from Kiotari.
---
Accommodation
Kiotari is a long stretched region on the South East coast of Rhodes. A perfect place for holidays in a peaceful and quiet environment. Kiotari offers a large selection of luxury and boutique hotels, holiday apartments, studios and private villas that will satisfy all types of visitors, from those who are looking for discount holidays to those who prefer luxury hotels and resorts. It has has an excellent tourist infrastructure that includes nightlife, car rental agencies, travel agencies.
---
Recreation
Kiotari is a unique paradise on the Southeast coast of the island of Rhodes. Kiotari is surrounded by a diverse and spectacular landscape with lush, green hills, nestled on the shores of the Aegean sea, an ideal setting for a perfect and memorable holiday. This hideaway heaven is one of the most popular resorts on the island of Rhodes for its natural beauty and Greek traditional style. If you are looking for this kind of holiday in Rhodes, Kiotari is definitely the place to be. Kiotari is in a privileged location, ideal for all types of travellers: couples, singles, families, nature enthusiasts and people who enjoy walking and rambling. Kiotari has been awarded the Blue Flag. You can relax on the beach and swim in the clear blue waters, explore the coastline with Boat Hire, or enjoy the excitement and thrill of the Water sports on offer.
---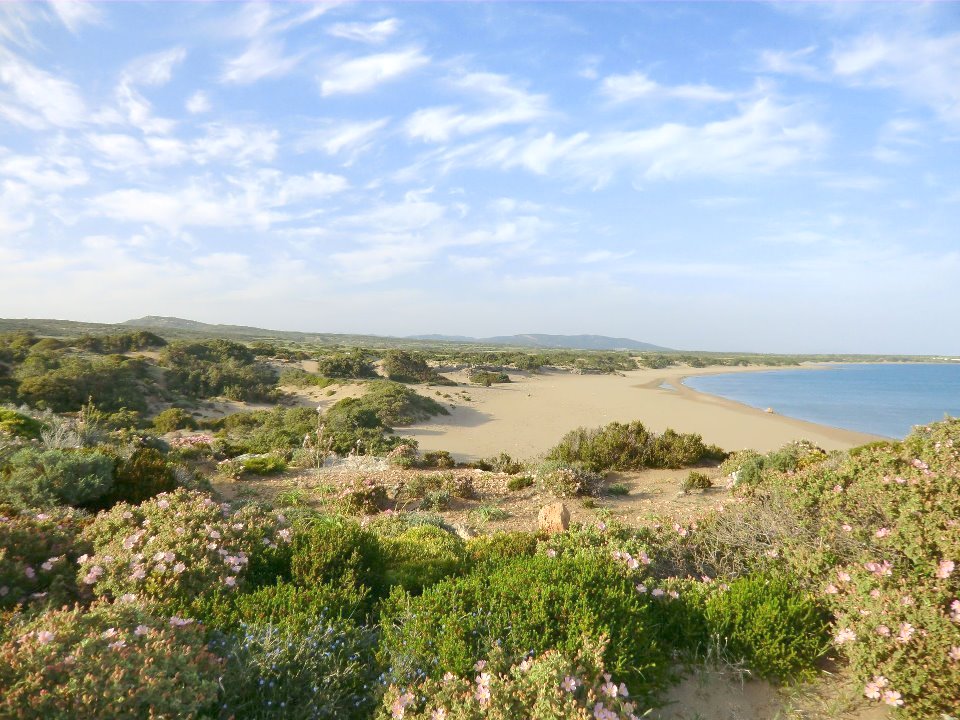 Climate
Kiotari enjoys a warm all year-round Mediterranean climate. It has four distinct seasons throughout the year, differentiated by temperature and rainfall.
Summer
is the hottest time of year in Kiotari with warm temperatures with up to 14 hours of sunlight each day. Temperatures range from the pleasant high 20s zone to a hot 31°C, providing perfect weather for sunbathing upon its beautiful shingle beach. Rainfall or cloudy weather is a rarity during the summer months, especially in July and August and an occasional local shower quite an event. Summer can be a very hot time of year so visitors are advised to pack a high factor sun cream with them. The temperature rarely drops below 20°C even at night throughout the summer. Relief from the heat of the high summer comes to Kiotari in the form of the northwest Meltimi wind. This prevails from May till October and is strongest between July and September when it is most needed. Kiotari and South Rhodes receive the main benefit of the meltemi due to its location and topography.
Autumn
sees very pleasant temperatures. The sea is still warm enough for swimming, remaining above 20°C until late November. October has average daytime highs in the mid 20s and November in the low 20s. Temperatures don't drop much below the mid teens even at night. The only negative point against an autumn visit is the increased chance of rain. However, October still only sees five rainy days on average and November seven. This is still low and the sun remains in ascendancy, but don't be surprised if you get the odd downpour.
Winter
in Kiotari is mild but wet. On average, over 60% of the island's annual rainfall falls between December and February. January is the wettest with 14 rainy days on average seeing 148mm of rain over the month. However, there are still many days when the weather is most favourable. A sunny day in December can see temperatures reaching up to 20°C. January and February are a little cooler but temperatures rarely drop too far into single figures. In general, Rhodes' winters are more like a northern European spring, making it a popular place to escape the cold harsh winters of those regions.
Spring
has increasingly favourable weather conditions and reaps the rewards of the wet winter in terms of the blossoming landscape. Again, it's much quieter than the busy summer months and temperatures are very comfortable. Things start to warm up again from March when average highs get into the high teens. By May daytime temperatures are in the mid 20s. Sunshine levels steadily climb and in May ten hours can be expected per day. March still sees a decent amount of rainfall, but it steadily decreases and by May rain is rare. A swim in the sea at this time can be a little bracing; the water doesn't fully warm up until June. With temperatures ranging around 17 to 24°C, some days may be warm enough to spend lounging on Kiotari's pretty shingle beach, soaking up the sunshine. With its pleasant climate, Kiotari is a beautiful place to spend one's holidays. And with its selection of water sports, rays of sunshine, mini markets, restaurants, taverns and bars, there is something for all.



---
Rent A Car in Kiotari

Your Ad Here
---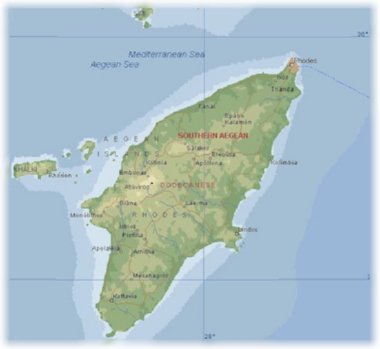 Area Guides
Kiotari: Much more than beaches, clubs and parties!
Kiotari
Asklipio
Lindos
Villages around Kiotari
East Coast
West Coast
Old Town
---
Contents
Boutique Hotels & Villas
Villas with Pool
Appartments
Stefano
Petalas
La Strada
Il Porto
Mourella
Kiotari Watersports
Sabina's Watersports
Boat Trips
Events
Radio
---